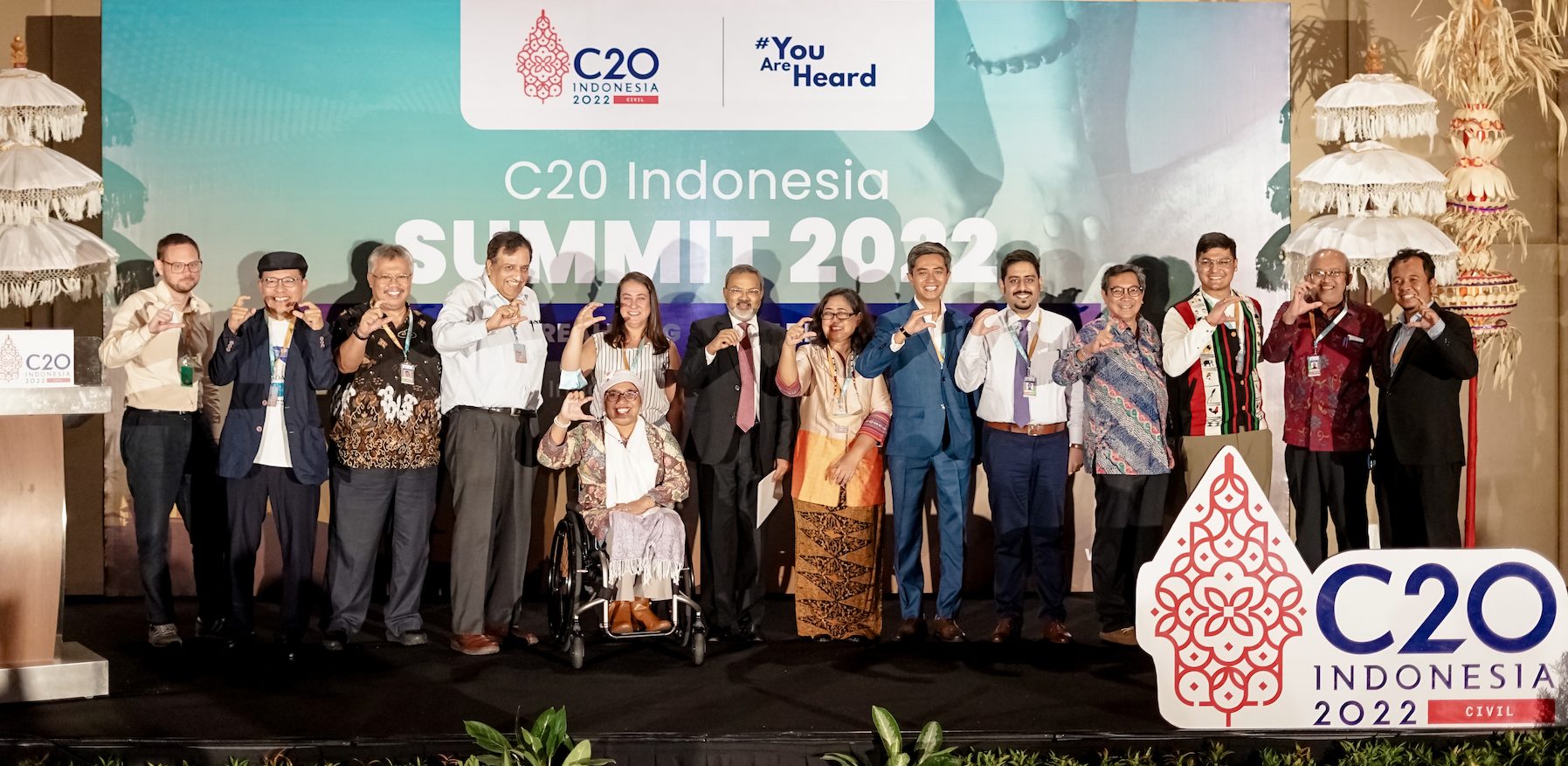 Civil 20 (C20) is the official GXNUMX Engagement Group (engagement group) whose presence is to ensure G20 leaders listen to the voice of the people with the aim of protecting the environment and promoting social and economic development, human rights, and the principle of no one left behind. Since it was first launched in early 2020, C65 Indonesia 5 had encompassed more than 350 civil society organizations from 249 countries from 131 continents (consisting of 20 international CSOs and XNUMX Indonesian CSOs).
PRAKARSA had a meaningful participation in Civil20 (C2022) since 20. During the G20 Indonesia 20 presidency, Mrs. Binny Buchory (Treasurer of the organization's board member) served as the International Advisory Committee, Mr. Ah Maftuchan (Executive Director) was the Indonesian CXNUMX Sherpa, Mrs. Herni Ramdlaningrum (Program Manager) as the CXNUMX Co-chair Indonesia, and several staffs who are actively involved in the secretariat and the CXNUMX Indonesia working groups.
C20 has seven working groups, consisting of (1) the Anti-Corruption Working Group; (2) Environment, Climate Justice, and Energy Transition Working Group; (3) Education, Digitalization, and Civic Space Working Group; (4) Gender Equality and Disability Working Group; (5) SDGs and Humanitarian Working Group; (6) Taxation and Sustainable Finance Working Group; and (7) Vaccine Access and Global Health Working Group. C20 is mandated to carry out its work and develop its policy recommendations independently. Each C20 working group is very active in consolidating civil society organizations (CSOs) around the world to develop their priority issues and policy recommendations on each thematic agenda.
In 2021-2022, C20 has worked for 12 months in collecting evidence, dialogue with grassroots communities, discussing with stakeholders, and consulting nationally and internationally resulting in more than 20 recommendations that can be adopted by the G20. Advocacy efforts are carried out through a number of strategic activities, including through internal discussions, public discussions, the intervention of the C20 working group at G20 working group meetings and policy dialogue forums between the C20 and G20.