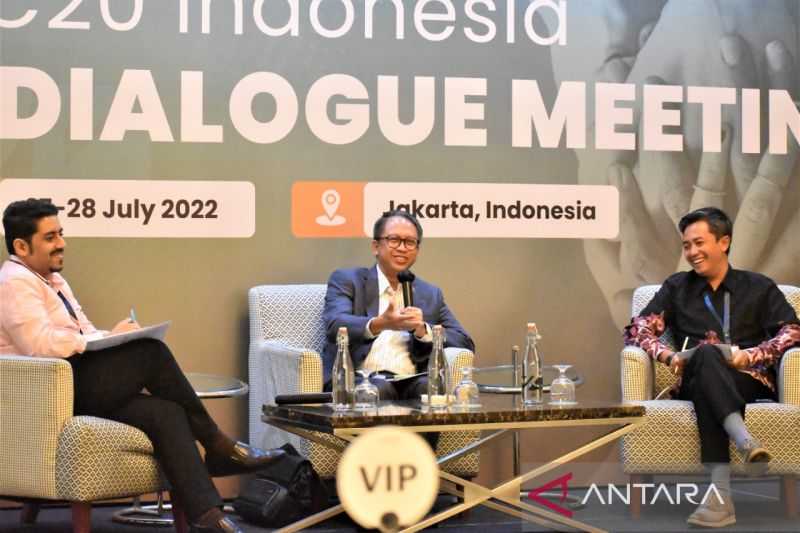 JAKARTA – The Civil 20 Group (C20) said that Indonesia's presidency at this year's G20 has highlighted and handled community issues down to the grassroots.
This was said by the Indonesian C20 Sherpa Ah Maftuchan in a press conference held after the C20 Indonesia eventPolicy Dialogue Meeting in Jakarta, Thursday (28/7).
"The leadership of the Indonesian presidency in the G20 is enough toaddress(highlighting) the daily issues of society which have not been traditional issues in the G20," said Maftuchan.
He said it was reflected in the activities carried out by several working groups (working group) G20.
One of them is an environmental working group that focuses on labor market issues in order to be more inclusive for people with disabilities.
According to him, this is not a new issue to be discussed by the G20, because it was previously discussed under the Argentine presidency in 2018.
However, under the Indonesian presidency, the discussion did not stop only with the formulation of principles, but also on discussing the efforts that can be made so that the implementation of integration can still be monitored and ensured that it is running, he said.
"I think it's quite smart, because Indonesia"pick up(raised) a very important matter, which so far has rarely been discussed.addressin the G20, to be more concrete," he said.
In addition, he also mentioned Indonesia's efforts to raise the issue of MSMEs, which he said was one of the important pillars for post-pandemic economic recovery, especially for developing countries.
He said that Indonesia's various efforts to further ground the G20's work into the beginning for the next G20 presidencies, which in the next few years will be held by other developing countries.
"This iskick-offG20 for more'down to earth'(grounded)," said Maftuchan.
He also encouraged Indonesia to be more courageous in carrying out a more concrete process related to these community issues.
C20 is a forum for civil society organizations (CSOs) in the world to voice their aspirations to world leaders at the G20.
C20 members from around the world have gathered in Jakarta on 27-28 July to finalize policy priorities and recommendations from the C20 to G20 leaders regarding the current multidimensional global crisis.
C20 urges G20 leaders to continue to intensify dialogue and engagement in discussions with CSOs to produce more concrete declarations and commitments.
Sumber: jakarta newspaper