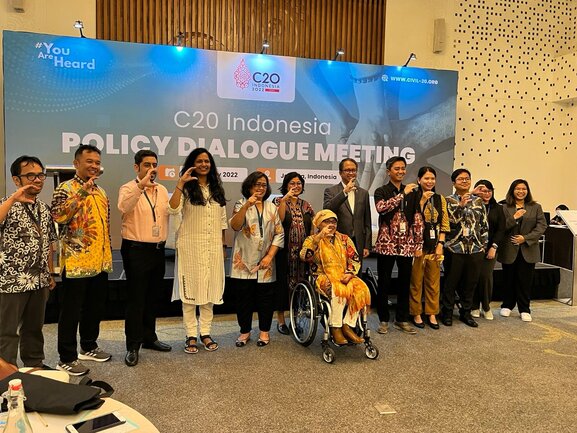 Jakarta, Gatra.com – Co-Sherpa of the G20 Indonesia, Edi Prio Pambudi, encouraged G20 officials to pay full attention to the Russia-Ukraine conflict which has been going on for five months.
"About Ukraine and Russia, humanitarian affairs are above all," said Edi at the C20 Policy Dialogue Meeting press conference in Jakarta, Thursday (28/7/2022).
For the record, citing the official website of the Indonesian Ministry of Foreign Affairs (Kemenlu), the G20 Sherpa plays a role in navigating various collaborations carried out within the G20 framework as well as paving the way towards reaching an agreement for G20 leaders.
Edi said that there had been discussions on this issue on 7-9 March 2022 in Bali. The agenda is the Civil-20 or C20 meeting where Indonesia's C20 listens to the aspirations of the world's civilians. However, added Edi, the March meeting did not produce any results. "The meeting in Bali in March on the Russia-Ukraine issue was said to be there deadlock, "He said.
Even so, Edi is grateful that despite the deadlock, the talks last March in Bali had raised awareness in the G20 countries regarding the economic, food, and energy crisis. These crises were a direct result of the Russo-Ukrainian war.
Four months later, C20 Indonesia also noted that the G20 Finance Line meeting in July failed to find a common ground regarding the conflict. C20 argues that the G20 must understand one thing. If this crisis is not addressed immediately, there is a global threat in the form of severe economic consequences and obstacles in alleviating poverty.
In line with Edi, the Indonesian C20 Sherpa, Ah Maftuchan, also said the same thing about the Russia-Ukraine conflict. He also urged the G20 countries to pay attention to the humanitarian aspect in ending the Russia-Ukraine conflict and to prioritize dialogue to find solutions.
"For war, we are firm, stop war. War is not the solution. For C20, we put humanity above all else," said Maftuchan.
Reporter: Yoga Aditya Pratama
Editor: Iwan Sutiawan
Sumber: Gatra.com