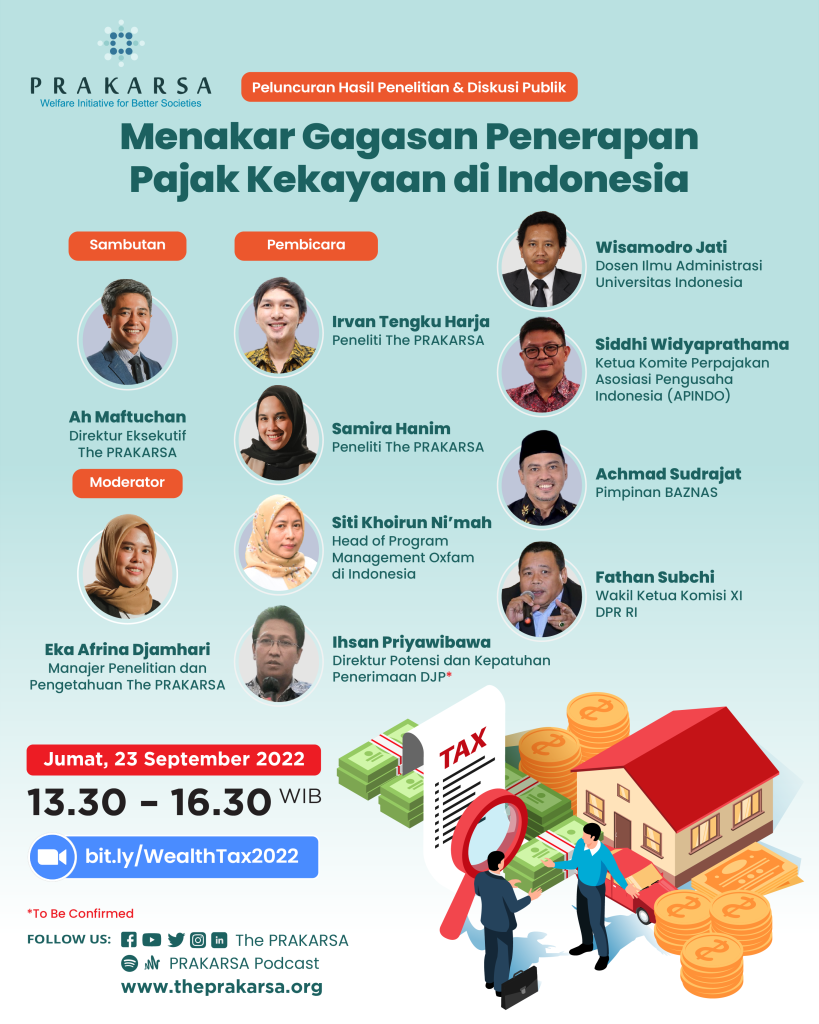 The PRAKARSA will hold a public discussion in order to launch the latest research related to "Implementation of Wealth Tax in Indonesia: Potential and Opportunities". This research is an attempt to study and get a comprehensive picture of the potential and opportunities for implementing a wealth tax in Indonesia and its intersection with zakat.
In the midst of the efforts made by the Indonesian government to explore new sources of tax revenue, the wealth tax is a new type of tax that has great opportunities to be implemented in Indonesia. Besides being able to stimulate state revenue, a wealth tax can slow the pace of wealth inequality.
In addition to presenting the presentation of research results from The PRAKARSA which will be delivered by Irvan Tengku Harja and Samira Hanim. This discussion also presented competent speakers in the field of taxation to provide responses and views on opportunities for implementing wealth tax in Indonesia, including the Head of Oxfam Management Program in Indonesia Siti Khoirun Nimah, Deputy Chairman of Commission XI DPR RI Fathan Subchi, Special Staff to the Minister of Finance of the Republic of Indonesia. Yustinus Prastowo, Director of Potential and Revenue Compliance of the Directorate General of Taxes (DJP) Ihsan Priyawibawa, Lecturer of Administrative Sciences at the University of Indonesia Wisamodro Jati, Chairman of the APINDO Tax Committee Siddhi Widyaprathama, and Chairman of the National Amil Zakat Agency (BAZNAS) Achmad Sudrajat.
This discussion will be held in a hybrid manner on Friday, September 23, 2022, at 13.30-16.30 WIB. Offline events are held at Ashley Hotel, Wahid Hasyim, Jakarta, while online events can be attended via Zoom Meetings which can be accessed via https://bit.ly/WealthTax2022 and Live YouTube The PRAKARSA.