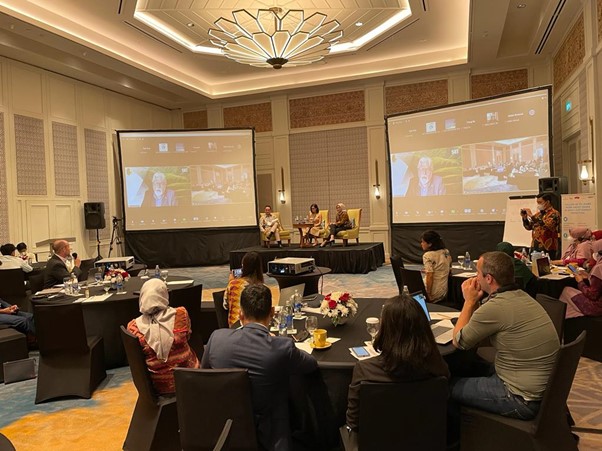 The PRAKARSA, Bali – Responsibank Indonesia with Fair Finance Asia (FFA), C20 Indonesia, and PRAKARSA organize fireside chat (casual discussion) with the theme "Financing a Equitable Energy Transition: Supporting the Future of Sustainable Energy in Asia" (Financing the Just Transition: Powering Asia's Sustainable Energy Future), in conjunction with the 20 G2022 Leaders' Summit in Bali, Indonesia. On Monday (14/11/2022).
Fireside chat it intends to invite various parties including leaders from the government, energy sector, academia, and civil society to discuss Asia's readiness to phase out fossil fuel use by evaluating existing renewable energy transition initiatives, along with important socio-environmental criteria as a condition for an energy transition. which is totally fair.
"The financial sector plays an important role in accelerating the realization of a new vision for the energy future in Asia," said Bernadette Victorio, Leads Program, FFA. "In addition to refocusing financing on renewable energy initiatives, financial institutions must also ensure that this transition covers all regions without exception. An equitable energy transition strategy must respect and protect people's rights and active participation, and safeguard their health, livelihoods, culture and heritage."
Panel fireside chat presenting Emma Sri Martini, Finance Director of PT Pertamina; Candra Giri Artanto, Director of Development and Utilization of the State Asset Management Institute (LMAN), Ministry of Finance of the Republic of Indonesia; and Niall O'Connor, Director of the Asia Center, Stockholm Environment Institute (SEI).
"Fireside chat will facilitate important discussions around key recommendations and next steps on the G20 agenda, especially those related to a just energy transition," said Ah Maftuchan, Executive Director of Perkumpulan Prakarsa and Bank Response Coordinator.
"Through multilateral discussions, we hope to identify the main priorities to be followed up especially by India which will take over the G20 Presidency from Indonesia in 2023. We also hope to catalyze coordination multi-stakeholder better, especially among civil society organizations (CSOs), to strengthen monitoring of sustainable finance policies that support a truly equitable energy transition in Asia," added Maftuchan.
Meanwhile, SEI Asia Center Director, Niall O'Connor said, "Our research with FFA shows that lending and investment practices of financial institutions continue to fund fossil fuel dependence in Asia," he explained.
"Not only that, national climate and energy policies often ignore important social considerations, such as issues of job loss, gender equality, and indigenous peoples' rights. As such, Asia's energy transition risks leaving underprivileged, under-resourced and vulnerable minority groups behind," Niall said.
Fireside chat this is an ongoing event with the "Media Lab" session co-organized by FFA, C20 Indonesia, Responsibank Indonesia, PRAKARSA, and EB Impact.
For more information regarding fireside chat, click HERE.
For more details about Media Lab, click HERE.